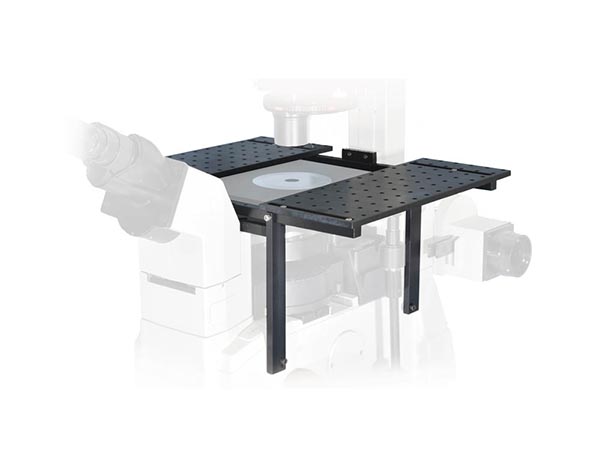 MD Series
Micromanipulator Platforms
We've designed a series of Microscope Dependent (MD) stands for those who wish to use a Sutter Instrument manipulator in conjunction with an inverted microscope.
The typical MD stand is a manipulator platform that bolts directly to the frame of an inverted microscope. Stands are available in either single-sided or double-sided versions for the most common inverted microscopes made by Nikon, Olympus, Leica, and Zeiss. These platforms lend themselves to the absolutely drift-free recording configuration required when using the manipulators to position patch-electrodes to record from attached cells in culture.
To mount the MP-285 to an MD stand you also need either the X285210 mounting adapter plate (for orthogonal mounting) or the 285RBI rotating base that allows for non-orthogonal mounting and rotation of the entire manipulator (note: the X285210 mounting plate is included with each MP-285 and MP-225). New mounting options and adapters for new microscopes are being added frequently.
FEATURES
Creates a stable matrix of ¼-20 or M6 holes on one or both sides of a mechanical stage
Open design allows easy access to specimen and microscope
Mounts directly on microscope preserving valuable optical bench space
Independent platform separate from specimen
Allows for flexible mounting of all Sutter motorized manipulators
US Prices > MD Series
International prices vary by country. Please contact your local distributor or Sutter Instrument for a quotation. Prices subject to change without notice.
MD part numbers have top plates with an imperial hole pattern (¼-20 on 1 in centers) and our MDM part numbers indicate a metric hole pattern (M6 tapped holes on 25 mm centers). The last digit of the MD and MDM part number identifies a single-sided universal platform (-1), single-sided positional (-1L, -1R), or a double-sided platform (-2). If you do not see a metric top plate for your microscope, please phone Sutter as it may be available.
Catalog Number
Description
Price
NIKON MD-50 Series
Nikon Diaphot 200/300 and Nikon TE 200/300
MD-50-1
Single-sided
$ 597
MD-50-2
Double-sided
$ 1,191
Nikon TMD
MD-51-1
Single-sided
$ 597
MD-51-2
Double-sided
$ 1,191
Nikon TE-2000
MD-52-1
Single-sided
$ 597
MD-52-2
Double-sided
$ 1,191
MD-52-1/UP
Single-sided for scope with Stage Up
$ 597
MD-52-2/UP
Double-sided for scopes with Stage Up
$ 1,191
Nikon TE-2000 (metric tap)
MDM-52-1
Single-sided
$ 597
MDM-52-2
Double-sided
$ 1,191
MDM-52-1/UP
Single-sided for scopes with Stage Up
$ 597
MDM-52-2/UP
Double-sided for scopes with Stage Up
$ 1,191
Nikon Ti
MD-54-1L
Single-sided left
$ 597
MD-54-1R
Single-sided right
$ 597
MD-54-2
Double-sided
$ 1,191
MD-54-1/M
Single-sided for scopes with motorized stage
$ 597
MD-54-2/M
Double-sided for scopes with motorized stage
$ 1,191
MD-54-1/UP
Single-sided for scopes with Stage Up
$ 597
MD-54-2/UP
Double-sided for scopes with Stage Up
$ 1,191
MD-54-1/MUP
Single-sided for scopes with Stage Up - motorized
$ 597
MD-54-2/MUP
Double-sided for scopes with Stage Up - motorized
$ 1,191
Nikon Ti (metric tap)
MDM-54-1L
Single-sided left
$ 597
MDM-54-1R
Single-sided right
$ 597
MDM-54-2
Double-sided
$ 1,191
MDM-54-1/M
Single-sided for scopes with motorized stage
$ 597
MDM-54-2/M
Double-sided for scopes with motorized stage
$ 1,191
MDM-54-1/UP
Single-sided for scopes with Stage Up
$ 597
MDM-54-2/UP
Double-sided for scopes with Stage Up
$ 1,191
MDM-54-1/MUP
Single-sided for scopes with Stage Up - motorized
$ 597
MDM-54-2/MUP
Double-sided for scopes with Stage Up - motorized
$ 1,191
Nikon Ti2
MD-55-1L
Single-sided left
$ 597
MD-55-1R
Single-sided right
$ 597
MD-55-2
Double-sided
$ 1,191
Nikon Ti2 (metric tap)
MDM-55-1L
Single-sided left
$ 597
MDM-55-1R
Single-sided right
$ 597
MDM-55-2
Double-sided
$ 1,191
MD-SPACER-15
15mm spacer for Nikon Ti2 with motorized stage (set of 4)
$ 70
Nikon TS-2
MD-56-1L
Single-sided left
$ 597
MD-56-1R
Single-sided right
$ 597
MD-56-2
Double-sided
$ 1,191
Nikon TS-2 (metric tap)
MDM-56-1L
Single-sided left
$ 597
MDM-56-1R
Single-sided right
$ 597
MDM-56-2
Double-sided
$ 1,191
Nikon TS-2R
MD-57-1
Single-sided
$ 597
MD-57-2
Double-sided
$ 1,191
Nikon TS-2R (metric tap)
MDM-57-1
Single-sided
$ 597
MDM-57-2
Double-sided
$ 1,193
---
Catalog Number
Description
Price
LEICA MD-60 Series
Leica DMIRB
MD-60-1L
Single-sided left
$ 597
MD-60-1R
Single-sided right
$ 597
MD-60-2
Double-sided
$ 1,191
Leica DMIL
MD-61-1
Single-sided
$ 597
MD-61-2
Double-sided
$ 1,191
Leica DMI 4000/5000/6000
MD-62-1L
Single-sided left
$ 597
MD-62-1R
Single-sided right
$ 597
MD-62-2
Double-sided
$ 1,191
Leica DMi 8
MD63-1L
Single-sided left
$ 597
MD63-1R
Single-sided right
$ 597
MD63-2
Double-sided
$ 1,191
MD63-1L/M
Single-sided left for scopes with motorized stage
$ 597
MD63-1R/M
Single-sided right for scopes with motorized stage
$ 597
MD63-2/M
Double-sided for scopes with motorized stage
$ 1,191
Leica DMi 8 (metric tap)
MDM63-1L
Single-sided left
$ 597
MDM63-1R
Single-sided right
$ 597
MDM63-2
Double-sided
$ 1,191
MDM63-1L/M
Single-sided left for scopes with motorized stage
$ 597
MDM63-1R/M
Single-sided right for scopes with motorized stage
$ 597
MDM63-2/M
Double-sided for scopes with motorized stage
$ 1,191
---
Catalog Number
Description
Price
OLYMPUS MD-80 Series
Olympus IX 50/70
MD-80-1
Single-sided
$ 597
MD-80-2
Double-sided
$ 1,191
Olympus IX 50/70 (metric tap)
MDM-80-1
Single-sided
$ 597
MDM-80-2
Double-sided
$ 1,191
Olympus IX 51/71/81
MD-81-1
Single-sided
$ 597
MD-81-2
Double-sided
$ 1,191
Olympus IX 51/71/81 (metric tap)
MDM-81-1
Single-sided
$ 597
MDM-81-2
Double-sided
$ 1,191
Olympus IX 51/71/81 with zero drift stage
MD-81-1ZDC
Single-sided
$ 597
MD-81-2ZDC
Double-sided
$ 1,191
Olympus IX 53/73
MD-73-1
Single-sided
$ 597
MD-73-2
Double-sided
$ 1,191
Olympus IX 53/73 (metric tap)
MDM-73-1
Single-sided
$ 597
MDM-73-2
Double-sided
$ 1,191
Olympus IX 83
MD-83-1
Single-sided
$ 597
MD-83-2
Double-sided
$ 1,191
Olympus IX 83 (metric tap)
MDM-83-1
Single-sided
$ 597
MDM-83-2
Double-sided
$ 1,191
---
Catalog Number
Description
Price
ZEISS MD-90 Series
Axiovert 100/135
MD-90-1
Single-sided
$ 597
MD-90-2
Double-sided
$ 1,191
Axiovert 200 / Axio Observer
MD-91-1
Single-sided
$ 597
MD-91-2
Double-sided
$ 1,191
Axiovert 200 / Axio Observer (metric tap)
MDM-91-1
Single-sided
$ 597
MDM-91-2
Double-sided
$ 1,191
Axiovert 25
MD-92-1
Single-sided
$ 597
MD-92-2
Double-sided
$ 1,191
---