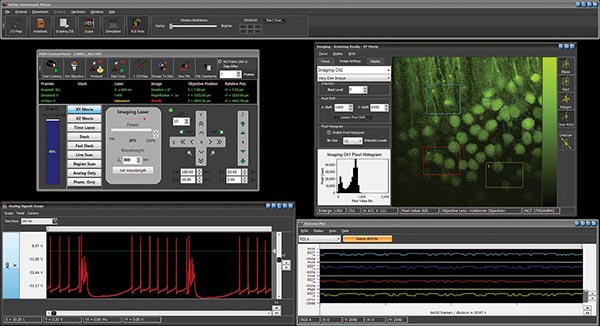 MCS
MOM Computer System and Software
The MOM® Computer System (MCS) includes the acquisition software package MScan 3.0 and the data analysis software MView 3.0. MScan seamlessly combines two-photon imaging,with photostimulation, behavioral monitoring, and electrophysiology.. While designed expressly for use with the Sutter MOM®, it is also compatible with other two-photon platforms. The MCS is designed to take on complex experiments in deep-tissue intravital imaging. Its intuitive user interface, is easy to learn and easy to use. The MCS and MOM together form a formidable tool to understand the most complex issues in neuroscience, immunology or oncology. Importantly, you will find in MCS the same standard of technical excellence and customer support that are the hallmark of all Sutter Instrument products.
The MScan 3.0 software simplifies the many tasks inherent in a complicated imaging experiment. MScan 3.0 is extensively multithreaded to take advantage of multicore processors, ensuring high performance, reliability and a responsive user interface.
MView 3.0, the MCS program for data analysis, can be downloaded freely from Sutter's website. As well as allowing for complex analysis, MView will also allow data output in formats suitable for analysis on other platforms.
MSCan and MView are free-standing, Windows native software applications, assuring optimal performance and eliminating dependence on other, 3rd party supporting software (ex. MatLab). The MCS platform scales readily, and easily supports a multiuser environment where data are acquired on one, shared microscope, but can be analyzed via MView on any number of other, independent workstations – no dongles.
MCS includes a Windows 10 workstation, fully integrated with its National Instruments data acquisition boards, a USB 2.0 camera and a USB controlled MPC-200. The National Instruments boards included are a PCI-6110 board for scanner control, a PCIe-6353 board for timing of imaging and control of photostimulation and laser power. Finally, a PCIe-6321 board provides for electrophysiology functions. MCS is delivered as a fully functional, turnkey system with all data acquisition hardware and software pre-installed and pre-tested within the workstation
FEATURES

Multichannel, high-speed, functional optical imaging
Resonant scanning capable with imaging rates to 30 frames per second
Scanning microscopy combined with simultaneous, camera-based, behavioral monitoring
Prolonged, multi-hour experiments
Photostimulation while imaging through the same optical pathway ("photostimaging")
Large-scale, high-resolution, deep tissue mapping
Two-photon microscopy and concurrent electrophysiology with computer-controlled placement of electrodes by Sutter micromanipulators
COMMON APPLICATIONS

Two-photon imaging
Deep tissue imaging
Neurophysiology
Immunology
Embryology
TECHNICAL SPECIFICATIONS
Dimensions (subject to change)
CPU
20.5 in x 8.25 in x 20 in | 52 cm x 21 cm x 51 cm
Monitor
26 in x 10 in x 19 in | 67 cm x 24 cm x 48 cm
Weight (subject to change)
CPU
31 lbs | 14 kg
Monitor
15 lbs | 7 kg
Electrical
115/ 230 Volts
50/ 60 Hertz power line
RoHS compliant


US PRICES > MCS SYSTEM
International prices vary by country. Please contact your local distributor or Sutter Instrument for a quotation. Prices subject to change without notice.
| | | |
| --- | --- | --- |
| Catalog Number | Description | Price |
| MOM-MCS* | System includes preinstalled MScan 3.0 software, Windows 10 workstation, data acquisition boards, one USB 2.0 camera | $ 22,258 |
* Must be used with MOM systems equipped with MOM-DAQ, MPC-200 and ROE-200
---
US PRICES > MCS COMPONENTS
| | | |
| --- | --- | --- |
| Catalog Number | Description | Price |
| MOM-DAQ | MOM data acquisition system (includes NI 6110E PCI board) | $ 6,598 |
| MPC-200-ROE | Includes MPC-200 controller and ROE-200 | $ 4,912 |
| MOM-CAMERA | USB camera (if both wide field and behaviour cameras desired) | $ CALL |
NOTE: The MOM-MCS communicates with the MPC-200 controller via the USB port for control of X, Y, and Z movement. It is not compatible with the MP-285 controller. Please contact Sutter for more information.
---
RELATED PRODUCTS
MOM - Movable Objective Microscope
PRODUCT INFORMATION
Download Sales Flyer
TECHNICAL INFORMATION

IMAGING MODES
XY movie
XZ movie - Requires Z-piezo nanopositioner
Timelapse
Stack
Fast stack - Requires Z-piezo nanopositioner
Line scan
Region scan - User-designated collections of points, lines, rectangles, ellipses or polygons
Photostimulation scan - User-designated collections of points, lines, rectangles, ellipses or polygons

3-D MAP WINDOW
Stores multispectral frames or stacks in a 25 mm x 25 mm x 25 mm 3-D objective space

FUNCTIONAL IMAGING
Real-time display of averaged intensities of regions of interest (ROIs) in scrolling plot

ANALOG INPUTS
8 analog channels, up to 250 kHz continuous acquisition rate

TARGETED PATCH-CLAMPING
Support for one Sutter Instrument micromanipulators and amplifiers

IMAGING FEATURES
4 imaging channels with independent gains and user-adjustable pixel duration
Bidirectional line scan with sub-pixel line offset adjustment
User or TTL triggered

PHOTOSTIMULATION
localized photostimulation without imaging using same optical path

PHOTOSTIMAGING
sequential photostimulation and imaging through the same optical pathway

INTEGRATED DEVELOPMENT ENVIRONMENT
Rich object model to control hardware, fully compatible with ActiveX Automation

MCS DATA FILES
Proprietary data format allows long (1-2 hour) functional imaging from behaving animals, sophisticated meta-data in file header